Four Fish
There were four fish friends in the sea
Trying to see what they could see
Each one said, "you, you, you, and me
Must try to do something we be."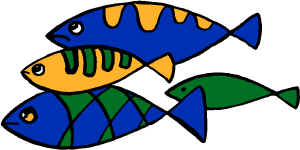 So they talked together for a while
And together decided to swim a mile
Not to test their own guts or guile
But because it brought them a smile.
And this is what you should do too
Without complaining or further ado
Not because of what it brings to you
But because it's the right thing to do.
© Shahriar Shahriari
Vancouver, Canada
February 10, 1998
---
Back Main Hall Story List Next
---
© 1998, Vancouver Canada 1999 - 2001, Los Angeles, CA
You may use any part presented herein, on the condition of giving full credit to the author and to this home page, including a hyperlink, if you wish to use these material over the Internet.