Mobed Firouz Azargoshasb
1912-1996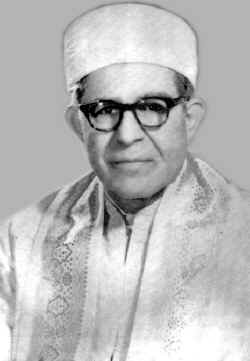 Son of Mobed Namdar, of a highly educated, well-read and cultured Mobed family, Mobed Firouz Azargoshasb was born in Yazd in 1912. After elementary schooling in Yazd, he went to Alburz College in Tehran.
Upon graduation, the Kankash e Mobedan of Iran sent him to Bombay to study Avesta Pahlavi at the Cama Athornan Institute.
After seven years in Bombay, he returned to Iran, and spent a year as an English teacher at the Kaikhosrow-vi Yazd High School. He then studied law at Tehran University and graduated with the highest honors. He worked for many years as a translator at the Mineral and Science Institute until his retirement in 1981.
A man with a passion for learning and research, Mobeds Azargoshasb spent a lifetime studying the Gathas and the Avesta language, under noted Avestan scholars Professor Pour-Davoud, Dr. Irach Taraporewala, Dr. Bode, Behramgore Anklesaria, Professor Mills and Dr. Haug.
After 15 years of research, he published a translation of the Gathas from the original manuscript to Farsi, along with commentaries from other scholars. Eight years later he published a second book on the Gathas in Farsi. His works form one of the greatest compilations of the Gathas in Farsi.
In 1980 his translation of the Gathas was published in English. In 1985, he wrote an Avesta book in English.
Mobed Azargoshasb is survived by his wife Simin, and his four daughters, living in North America and Iran.
---